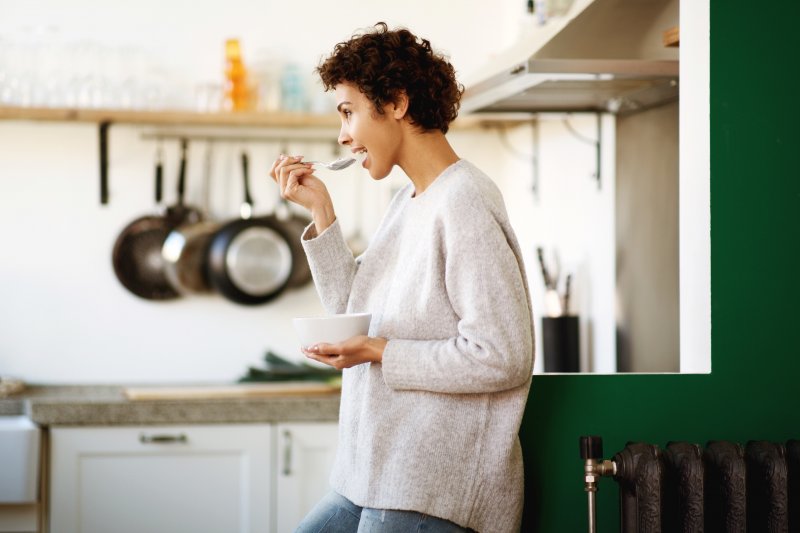 Did you recently enhance your smile with high-quality veneers? Or repair it with long-lasting dental crowns? Either way, sticking to a healthy diet following your treatment is essential for a smooth sailing recovery. After certain dental procedures, your dentist in Trumbull will recommend eating only soft foods to prevent damaging your mouth. Being mindful of what you eat will put you on the path toward an easy healing process. Keep reading to learn why a soft-food diet is necessary in some cases and which nutritious foods you should stock up on.
Why Is a Soft-Food Diet Necessary?
Eating soft foods isn't just necessary after getting veneers or dental crowns – it's often recommended following any oral surgery (i.e., extraction, periodontal surgery, dental implant placement). This type of diet is necessary to ensure proper healing following these complex dental procedures. It'll also help reduce irritation on any open wound and lower the risk of biting with the affected tooth. Since your mouth and jaw will be quite sore after certain treatments, you'll find it more comfortable to eat soft foods anyway.
How Can You Eat Healthy on a Soft-Food Diet?
After a long day in a dental chair, you may want to treat yourself to some ice cream or frozen yogurt. While it's okay to snack on those sweets occasionally, you'll want to avoid making them the only foods you eat during your recovery. Maintaining a healthy and well-balanced diet can actually help you heal. Getting enough calories will keep your body nourished and eating plenty of protein will help build and repair muscle, skin, and tissue. Don't forget to eat plenty of fresh fruits and vegetables to ensure you get adequate nutrition.
Nutritious Soft-Food Diet Options
Don't worry – it's easy to eat healthy on a soft-food diet! There are numerous healthy food options that don't require much chewing. Some of those include:
Pureed or cream soups
Oatmeal or cream of wheat
Cottage cheese
Soft scrambled eggs
Yogurt
Smoothies or shakes
Mashed potatoes
Low-sugar yogurt
Steamed soft veggies (i.e., squash or peas)
Most patients can return to their usual diet once they feel up to it. However, you should stick to a soft-food diet for as long as your dentist or oral surgeon recommends. Diligently following your aftercare instructions will help you make a quick and problem-free recovery!
About the Practice
At Cappello Family Dental, we strive to provide compassionate and personalized dental care unlike anywhere else. Our team will always go the extra mile to ensure you have a satisfying experience every time. If you have any questions about your aftercare instructions, don't hesitate to reach out. You can make an appointment via our website or call (203) 816-5545.