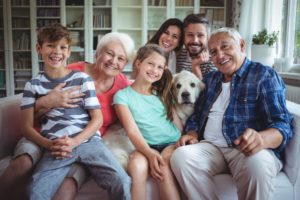 You've just moved to the area, and you're still trying to find everything you need in a new place. It can be overwhelming to start over, but one way to simplify your transition is to find a family dentist for comprehensive oral care. Instead of going to various practices for specialized procedures, a family dentist can check off your list of needs.
Would you like more reasons to opt for a family dentist? Keep reading to learn three!
Convenience of Everything in One Place
Chances are, even if you don't have a huge family, you find yourself going all over the place with sports practices, lessons, and other appointments. Rather than seeing a pediatric dentist, general dentist, and a specialist, wouldn't it be nice to visit just one place and have the entire family treated?
At a family practice, every family member can receive the services that help them have a stunning, confident, and healthy smile, whether they're 3 or 103. From routine checkups and fillings to more advanced care like dentures or cosmetic work, your family dentist offers a wide range of procedures in one office.
Tracking Your Dental History
Many oral health problems can develop over time. Your family dentist can keep track of any concerns and notice when they get subtly worse.
For instance, if you tell your dentist about your teeth sensitivity, they know to keep a close eye on those teeth specifically in your future appointments to see if they develop decay. If you have a history of diabetes, your family dentist can know to pay extra close attention to your gum health. As your child grows and goes through transitions, it is beneficial to have a comprehensive oral history to understand how far they've come and know what to look out for!
Rather than having to going to someone who knows nothing about your oral history, you could visit someone who knows your background and can help you stay on track.
Building Trust and Relationships
Along with a knowledge of your history, your family dentist can establish a personal relationship with you and the members of your family. Dental services require close contact and putting yourself in a vulnerable position, and you must have confidence in the person working in your mouth.
When you visit the same family dentist at least twice every year, they learn about you as a person. They can show you their personality too, helping you build that trusting relationship. As a result, dental appointments can become much less stressful and more enjoyable—like you're visiting a friend!
In the end, whether you're new or you're simply looking for a change, make sure you look for a family dentist! Choosing a family dentist can help you save a lot of time, but it can also spare you unnecessary stress for everyone in the family.
About the Author
Dr. William Cappello is proud to be a family dentist for the Trumbull and surrounding communities. Since he graduated from Tufts University School of Dental Medicine in Boston, he has since studied with some of the most prestigious organizations in the country, including Spear Institute, Dawson Academy, and more. If you would like to bring your family to Cappello Family Dental, you may contact our office online or by calling 203-816-5545.